The New York City photography community is a small, tight-knit group of immensely skilled creatives. Major brands from Ralph Lauren to Budweiser commission top photographers for shoots and influencer campaigns.
In today's blog, we highlight some of our favorite NYC based photographers.
Patrick Kolts is a photographer who simply is interested in learning about people. He categorizes himself as a storyteller who through powerful tools like photography likes to share the places he's visited, people he has met and recount enthusiastically what the experience was like through images and brief commentary. Because Kolts documents his travels outside of the United States, his followers are from a wide variety of regions including London, Los Angeles and New York City.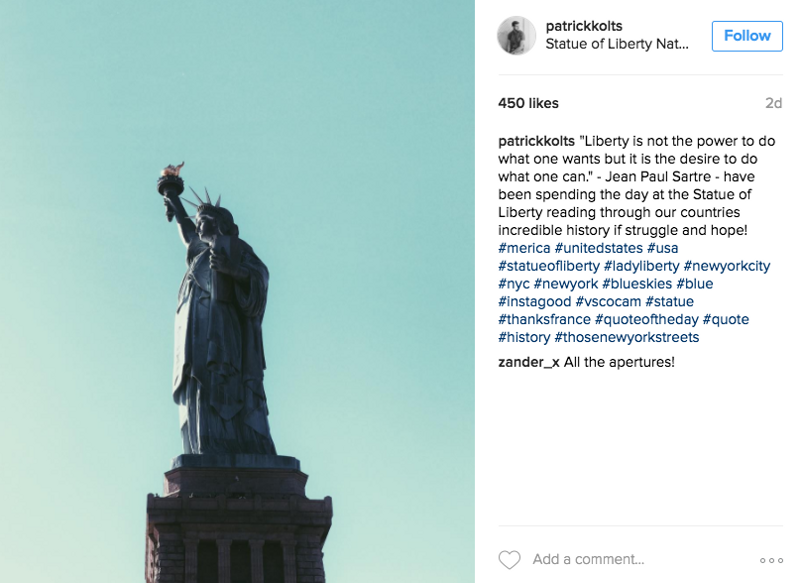 2. Emily Soto
Emily Soto is a high-fashion photographer who is known for her unique visionary and romantic style and has been featured in global publications including V, Allure, Teen Vogue, Nylon, Elle and S Moda. Soto expands her portfolio beyond photography by supplying her followers with behind-the-scenes footage of her shoots. By providing content on Facebook, Instagram, YouTube, Twitter and Snapchat, 50% of Soto's followers are male.
3. Sam Horine
Sam Horine leverages the lens of camera to explore forgotten, abandoned and under-appreciated places. His images and distrinctive photography of NYC locations, Horine is a regular contributor to publications like NY Magazine, Time Out New York, The Village Voice and Gothamist. By providing content daily, Horine has earned over 514,000 followers on Instagram, where 1/5 of his fans are between the ages of 30 and 34.
4. Alice Gao
Alice Gao chronicles her daily journey through her blog, Lingered Upon. With a mix of personal photography, professional portraits and travel images, Gao's blog and social media channels are an accumulation of the small realities she experiences daily. Gao has nearly 1 million followers on Instagram where she posts on a daily basis. Also documenting fashion and outfit styles, 3/4 of Gao's followers are females.
With a background in graphic design, theatre and hospitality, Patrick Janelle is a creative director, brand consultant and content creator. After living across the United States and glove, Janelle settled in New York in the fall of 2011 working in the art department of Bon Appetit. With just his iPhone, Janelle captures and posts stylistic images of his daily life to his 451,000 followers on Instagram. With a growing following, Janelle has worked with brands like American Express, FedEx and Nike on integrated branded posts.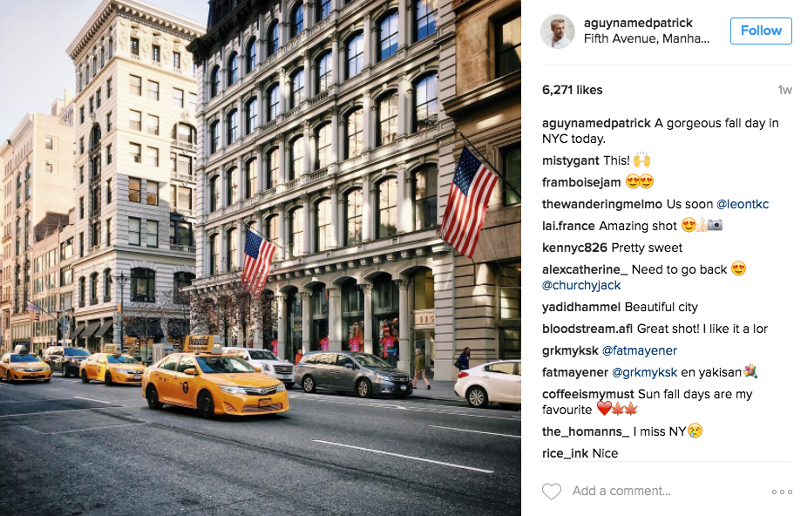 Kirsten Alana has first and foremost always been a photographer. Her success in photography has provided her multiple opportunities including being featured at conferences on six continents, with one of her topics being social media. As a top travel photographer, Alana has been in front of the camera hosting for CNN, Travel+Leisure, and Expedia and has been tapped by brands including Ford, American Express and Viking Cruises for branded content. Alana reaches over 232,000 followers with her content and nearly 1/4 of her followers are between the ages of 30 and 34.
Vivienne Gucwa, better known as NY Through the Lens, started her journey as a digital influencer in 2009 when she documented her daily walks in New York City to her Tumblr account. With no formal training, Gucwa used her eye for design to captivate audiences and within just a couple of months she had garnered over 70,000 followers. Today, Gucwa has over 317,000 followers on Facebook, Instagram and Twitter combined with nearly 60% being females.
8. Tutes
Born in Ecuador and raised in New York City, Jose Tutiven is a photographer with a knack for capturing authentic moments and showcasing personal, intimate details through portraits. Also known as "Tutes", Tutiven leverages lighting and close angles to tell stories in each of the photos he takes. Today, Tutes has close to 128,000 followers on Instagram, where he has posted over 2,000 photos from his shoots. With his subjects mainly millennial New Yorkers, more than 50% of his followers are between the ages of 20 and 29.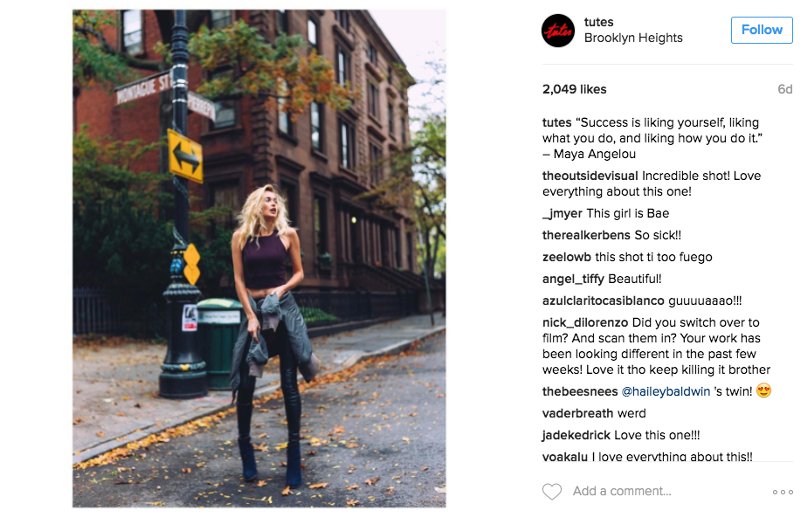 Daniel Krieger is an award-winning food, restaurant and portrait photographer based in New York City. A regular contributor to the dining sections of the New York Times, Food & Wine, and Bon Appétit, Krieger is also a head photographer at Eater.com, an industry leader in local restaurant and bar coverage. His expert eye for light and framing brings an added dimension to each subject has helped him garner close to 155,000 followers on Instagram. Appealing to the foodies in all of us, nearly 4/10 of his followers are between the ages of 30 and 34.
Levi Jackman-Foster is a New York City based artist, activist and story teller. Foster uses provocative portraiture and imagery to bring attention to human rights, environmental and social issues on a global scale. He continues to fascinate and inspire, as Levi has over 210,500 followers on his Instagram account, where 80% are men.
---
Julius is a SaaS influencer marketing platform that provides marketers with rich social data, advanced search capabilities, and the campaign management tools required to organize a successful influencer marketing strategy.
For more information about Julius, our influencer marketing software, or our blog please contact our sales team.