At the dawn of the viral age, when YouTube still had to compete with other services for views, the allure of the online videos were their simplicity. Anyone could partake, share some of their day, and earn their slice of viral fame. In the days of nigahiga, Smosh, and Epic Rap Battles, production value was sparse but duly appreciated.
Long live the vlog
As the decade turned and YouTube became the only show in town, production values rose and so too did expectations. Nowadays, even the lowliest of vlogs are shot with wide open apertures on DSLRs, professionally done makeup, and Hollywood level video editing. The result has been extremely brand friendly, and the formulaic approach, though predictable, makes for consistent results.
This relative ubiquity has allowed influencer marketing to flourish: it's much easier to work with someone when you know what you're getting and what to expect. Contrast that with the fact that many influencers want to be creative and do things their own way, and it's apparent a disconnect is forming. For every vlogger who wants to follow the formula and earn their endorsements, there's another who wants to break the mold.
Meet the vlog disrupters
This tenuous balance is easy to disrupt — but who's doing this disrupting? One such disrupter, Joana Ceddia, is a 17-year-old YouTuber from Canada. Ceddia experienced explosive viral growth — earning her accusations of buying subscribers —by bucking the trends and harkening back to the good ol' days of vlogging. By making a few low quality videos shot on an iPhone, filled with esoteric and dorky humor, Ceddia vaulted herself to viral fame — particularly among 17-19 year olds.
Another popular Gen-Z Instagrammer, @jazzy4nne, boasts nearly one million subscribers on her YouTube channel, where she vlogs about school, the arts, and her daily life. Like Ceddia, while the topical nature of her content is not particularly unique, the style is. And to her audience of primarily <20 year olds, style matters.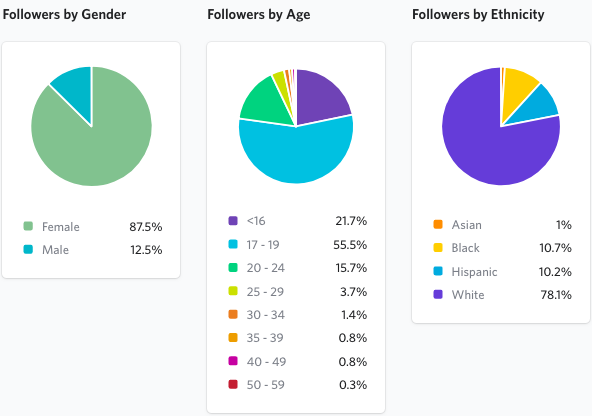 @jazzy4nne's real time audience data, via Julius
Speaking of style, Michelle Reed vlogs about her frosh college experience, morning routines, and her fashion inspiration. Though lacking the same meme-y flare of the previous examples, Reed's genuine approach to her content hardly feels contrived. From relationship to advice to fashion hauls, Reed is tapped into what an audience her age is interested in seeing, largely because she is a product of it.
Like Reed, Kailey Anderson is a fashion and lifestyle vlogger, taking her followers through her move from high school to college. Though she uses common formats like hauls, competition videos, and Get Ready With Me walkthroughs (all fun tags on Julius!), Kailey's comedically infused vlogs don't take themselves too seriously, making standard fare material approachable and digestible.

Kailey Anderson's most engaged posts tell the story of her followers
The success of the aforementioned, among others, offers insightful commentary about Generation Z's perception of social media: it's more a facet of life than an extension of themselves. They spend longer amounts of time on social media, despite being more guarded than older generations (ever heard of a finsta?). They like to engage with content, and most don't even mind seeing ads on their favorite platforms. In the era of cord cutting, social media and live streaming occupies much of the same time that would be spent watching TV.
The engaged generation
Teenagers nowadays hardly know a life without the internet. Their senses of humor, political ideas, and social relationships are often derivative of and defined by their interactions with the internet and social media. They use Instagram and Snapchat to communicate with friends ephemerally, share fun or interesting content, and occupy their free time.
Being so highly engaged with so many types of content naturally lends itself to innovation — you can only watch so many travel vlogs before the Casey Neistat formula gets old. But the Gen-Z disruption is more than just getting bored with old content. Social media doesn't just speak their language, it is their language. There's no insights to be leveraged, no data to follow, no content to contrive. Influence is a hobby more than it is a career, by virtue of how naturally viral fame can come to them. Don't discount the power of their voice, even it isn't what you expect.