Gaming can be a mythical and sometimes inaccessible world, at least to the untrained eye. Streaming can be even harder to understand, given that you're watching people play a video game. If we accept both of these as, at the very least, odd, then marketing through either medium is like reading alchemy in Latin. We are all aware of the power of live streaming as a means to connect to an audience, but gaming specifically is its own beast for marketing purposes.
Gaming is an indisputably massive industry with the eyes and ears of key demographics for companies around the world.
While some brands have tried and failed to incorporate games into their advertising strategy, whether they sponsored games or produced some themselves, others have realized the power and potential for influencers in this volatile but valuable space.
The nature of video game streaming is idealistically threefold: viewers enjoy the game being played, enjoy the streamer playing the game, or want to learn how to better play the game from the streamer. Perhaps the most prolific Twitch streamer, Ninja, is followed primarily for his skill at Fortnite. Similarly, Pengu, a Rainbow 6: Siege player, is best known for his gaming acumen. Conversely, streamers like IcePoseidon and Doctor Disrespect are followed for their personas and content. Streamers simply plug their sponsorships in their bios or periodically throughout their live streams, since the content is always unfiltered and to a point improvised.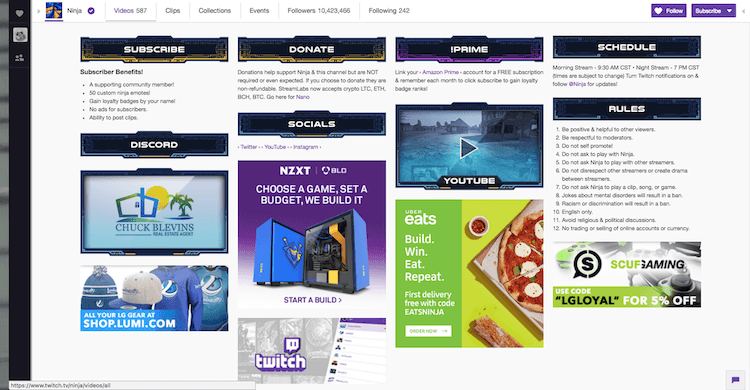 Ninja features his sponsored partners in his bio, just below his stream
Thus, many streamers are viewed idealistically by their communities and their word is taken as gospel. A product plug to the highly impressionable young, male audience that many streamers thrive on is as good as gold to the right brand. It didn't take long for closely related brands to take notice of this, but there is room for rapid expansion — Twitch is indeed the next frontier for influencer marketing.
The justification is simple: rather than trying to speak the rapidly changing vernacular of gamers, many tech and tech adjacent brands have jumped on the influencer marketing bandwagon, specifically streamers. In fact, for brands like Razer, Logitech, and MSi, streamers have become their de facto spokespeople. They cultivate their own community, make their own jokes and memes, and develop their own brands prior to sponsorship. When a brand like Corsair partners with a streamer, either by sending them free parts and gear or simply paying for positive promotion, they in effect join the streamer's community.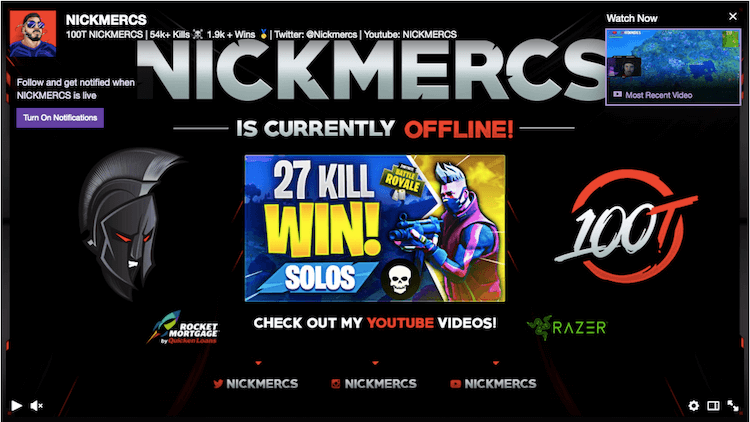 NickMercs features his sponsors on his away page, in addition to in-stream banners
There is something to be said of the power of word of mouth marketing as an outcome of influencer marketing, especially in streaming. Brands become synonymous with their de facto spokespeople, simply from time invested by streamers and their viewers. In the past year, over 8 billion hours of streams were watched on Twitch alone. 8 billion hours of potential brand exposure simply by being adjacent to a streamer. The fact is, streamers are to many the new form of celebrity. YouTube already has a culture like this, with content creators having their own reality tv-lite drama (nothing a diss track can't solve, right?), and Twitch has developed a similar community on its own.
Influencers have the same capacity for lifestyle authority as traditional celebrities do, with an added caveat: they are so much closer to their audience. Even better, Twitch streamers have the potential for direct contact with their notoriously difficult to reach audience, through both chat and stream, in addition to other social networks. Streaming has all the power of influencer marketing — the authenticity, the engagement, the exposure — but on an even more aggressive level. Utilizing gaming streamers for influencer marketing is a no brainer for brands looking for this demographic — expect 2018 to be a big year for the company as it rolls out even more features for the platform.