Last night, our head of customer success, Danny Palestine, gave a riveting presentation at Digital DUMBO: Sphere of Influence. The event, held at Prolific Interactive, was an intimate night featuring 3 presentations regarding influencer marketing and advertising in the digital space.
There, Danny gave his speech, entitled "The Power of Micro Influence," to a crowd of marketers, influencers, and the like.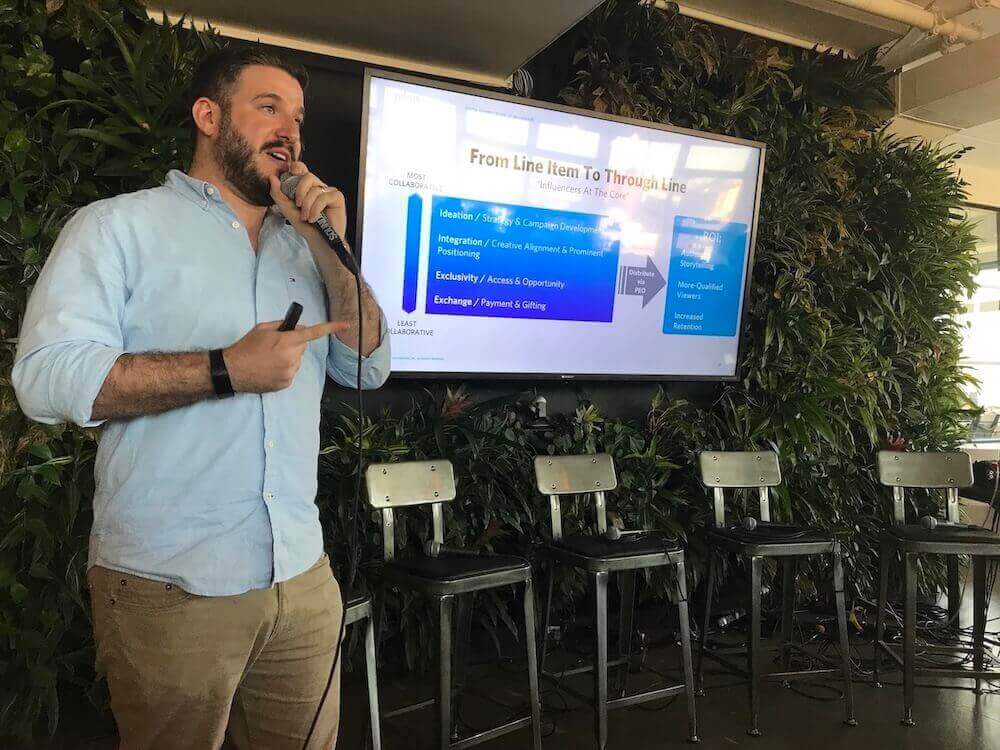 Danny opened the floor discussing the difference between influencers and influence, the idea that an influencer has the capacity to effect a change in consumers' minds by interacting with their audience. He posited that one person, or even a group of people alone are not enough to change consumer's minds; we need strategies and ideas to change the way they think.
Influencers vs. Influence
His presentation focused on clearing through the noise and clutter of social media to find "meaningful ways to connect with consumers on social," going so far as to bring two volunteers on stage to demonstrate the idea. One simply had to listen, the other to tell her influencer marketing story. Danny had the crowd, all at once, shout out brands they're working with, while all the listener had to do was pick out what she heard. She could make out only one, Pepsi. Danny had the other volunteer tell her her influencer marketing story personally, directly, to fully realize his point.
This led into his overarching thesis, that while "social is not a quiet place...how can you leverage influencers to create a one for one dialogue?" He gave examples of how Alamo car rental created experiences for its influencers, rather than giving them a brief to merely present, by having them travel using their rentals for a full year. The resulting intimate and authentic storytelling was a massive boon to the company, further reinforcing his point.
Talking The Vernacular Of Your Customers
Danny, drawing from a quote by Obele Brown-West, the EVP of Weber Shandwick, declared that personalization is paramount: there is a "new expectation of authentic one-to-one communication through technology." Using Pinterest's audience insights tool as an example, he discussed the need to understand what a brand's audience is looking for; what their tastes are and how these tastes are shaped by trends and the brands who define them.
Before bringing up a guest, Danny made his final, and perhaps most powerful point of the night: developing long-term relationships with influencers is vital not only from the perspective of authenticity, but also for identifying consumer's tastes. The simple fact is, "influencers are taste makers" and smart brands will "...leverage their influencers for insights." Influencers, in Danny's eyes, "talk the vernacular of [your] customers, they are people who know what's up."
Authenticity and Collaboration Insights
Galvanizing what has always been the core philosophies of Julius, Danny suggested that social media users, and therefore consumers, appreciate and expect authenticity in the stories they're told. One-off partnerships are noisy, cacophonous, and wont to be tone-deaf, while authentic, long-term relationships tell stories people are interested in hearing, which is the whole point of social media in the first place.
He ended his impressive presentation by bringing up Tyson Wheatley, a photographer and content creator from Queens, NY, who has worked as an influencer and a freelance photographer for several years. Tyson and Danny riffed about the desire of influencers to have meaningful relationships with the brands they work with and the content they produce, rather than struggling to fit one-off posts into the broader theme of his social feeds.
Tyson discussed some of the difficulties and frustrations of working as an influencer, from the turnover at agencies to the demands made by brands as they compared to the desires of influencers. Their discussion brought a human face and a living example of the incredibly insightful presentation.