Loot Crate is the perfect example of successful influencer marketing, considering the fact that it's the foundation of their business.
Co-founders Matthew Arevalo and Chris Davis found the best method for building their subscriber base: by letting influencers do the work for them. The audiences they tried to reach were already in pockets of followers online. All they needed to do was to provide awareness.
Loot Crate is a geek, gaming, and pop culture mystery box subscription service that will send you a box of curated items from popular properties such as Marvel, DC, Star Wars, Star Trek, Halo, you name it. You never know what you're going to in each box; the only hint is the monthly theme. For example, the theme for July's crate is "Animation," and will feature items from properties such as Rick & Morty, Bob's Burgers, Teenage Mutant Ninja Turtles, and Futurama. The catch is that each crate is only available for a limited time. It includes over a $45 value of items.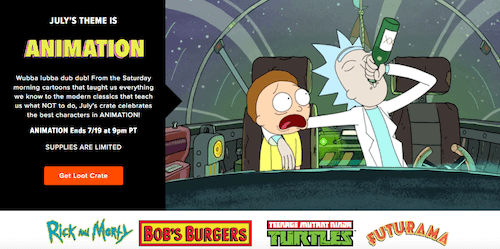 Seeing as the "geek" community has a massive presence online, especially on platforms such as YouTube and Twitch, they knew exactly where to look for new subscribers. They tasked influencers operating on those platforms who produce content about video games, comics, and films (the type of properties to be featured in their mystery boxes), and had them create videos of them unboxing their monthly crates. Who better to enlist talent such as PewDiePie (the top digital influencer in the world), along with gaming influencers SMOSH, and Boogie2988 for more unboxing exposure?
Total Reach: 87M
Platform with Highest Engagement:YouTube
Average Engagement on YouTube: 4.9M
Total Reach: 41M
Platform with Highest Engagement:YouTube
Average Engagement on Youtube: 2.1M
Total Reach: 5M
Platform with Highest Engagement:YouTube
Average Engagement on YouTube: 336.9K
Loot Crate didn't stop there. They took it a step further by letting the influencers come to them. They created an influencer application form on their site, where as long as they have enough followers, they can partner with Loot Crate. This method satisfies all parties — the influencer gets sponsorship, the brand gets exposure in their target market, and the fans get a promo code for discounts on the product. Today, the amount of Loot Crate influencers are countless, and they range from major influencers like PewDiePie and SMOSH, to more niche influencers like Schmoes Know or Mr. Sunday Movies.
Want to join our influencer network? We're looking for Twitch streamers/YouTube channels. Send channel stats & info to mikey@lootcrate.com

— Loot Crate (@lootcrate) March 25, 2014
Total Reach: 819K
Platform with highest Engagement:YouTube
Average engagement on YouTube: 216.1K
Total Reach: 493K
Platform with Highest engagement:YouTube
Average engagement on YouTube: 66.5K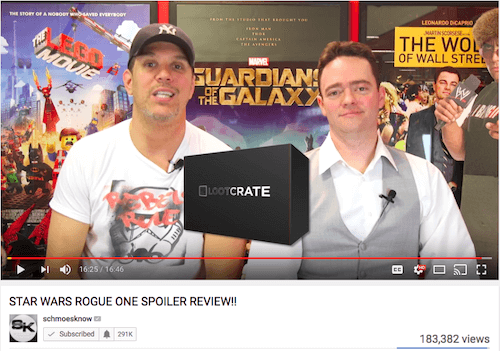 Through influencer marketing, Loot Crate has created its own community of "Looters," and is №1 on Inc. 5000's Fastest Growing Companies List of 2016. With a great product, ambassadors with a wide range of followings, and a subscriber base of 600,000 and counting, Loot Crate has cracked the code on influencer marketing, and inspired others to take after them. Fashion/Beauty Mystery Box service FabFitFun enlists influencers in a similar way, with an application process and influencer content.
Total Reach: 2M
Platform with Highest engagement:YouTube
Average engagement on YouTube: 316.1K
The possibilities for growth are endless by partnering with the right influencers who are also passionate about your brand. The Julius platform can help you compare influencers and create campaigns in half the time. Book a free demo today.