"The influencer marketing industry is on track to be worth up to $15 billion by 2022."

Searching for influencers to endorse your brand begins with an understanding of what kind of influencer is needed and what qualities to look for. In order to find success, marketers must determine what makes a good influencer, and how to partner with them to increase their exposure.


What is the difference between an effective and ineffective influencer?

There are two main markers of a stellar influencer: authenticity and engagement.

A good influencer knows how to connect with their audience authentically. Authenticity is key to understanding how an influencer creates content. Effective influencers only partner with brands that they personally support, because they've worked hard to build a relationship with their large crowd of followers and won't do anything to betray that trust. A good influencer will not only research if a product or service is helpful but also determine if it is worth sharing with their audience.

Good influencers also understand the importance of their engagement rate and are more likely to foster genuine relationships with their followers, rather than rely on vanity metrics. As Inc. notes, vanity metrics along with other forms of misleading data cannot contribute to business growth, and can only show brand visibility.

Engagement rate is a quantitative (but essential) aspect used to determine the quality of an influencer. Engagement rate is a sign of audience activity based on factors like shares, comments, and likes. Although this varies on different social platforms, it is essential to know if an influencer's following is earned and legitimate.

Business Insider's 2019 Influencer Marketing Report categorizes two ways to determine an influencers' efficacy when it comes to engagement rate: reach and niche. According to BI, "Reach. As a general rule, targeted reach, cost-effectiveness, engagement, authenticity, and accessibility all increase as follower count decreases." Noting that important aspects within reach go hand in hand with the second factor, "Niche. Brands can leverage relevant niche influencers to more intentionally target audiences.

To maintain a solid engagement rate, a good influencer knows exactly what kind of content their audience is looking for and consistently interacts with them. This becomes important as brands prioritize their return on investment (ROI) through influencer marketing by looking for performance metrics, which include engagement rate.

In that vein, B2C notes that, compared to social ads and email marketing, influencer marketing results in higher engagement rates. When it comes to working with a good influencer, make sure they are able to share engagement rates clearly, and that the quality of published content in past brand campaigns has performed well. But the question remains: can the influencer being considered for a partnership prove that they can contribute to a brand's bottom line?


How marketers identify good influencers to work with

As influencer marketing reaches a wide range of audiences across the world, brands have seen the surge in online engagement, and are moving from other forms of digital marketing to influencer marketing. Marketers are starting to utilize influencer marketing software solutions to identify influencers and find guidance on managing brand partnerships. In terms of identification, here are some key attributes to consider in search for a good influencer.


Influencer-Brand Values. Identifying influencers who have a personal interest in and accordant values with a brand is a starting point for successful long term brand-influencer partnerships. PR Daily states, "The influencer you choose to associate with should be someone who shares like-minded values and tone of voice." Along with like-minded values, the tone of voice in which an influencer expresses their interest during brand endorsements is another benefiting factor to induce audience engagements.

Consistent Quality Engagement. Brands recognize good influencers through their production of quality content and engagement with audiences. Knowing their engagement rates allows influencers to create content that produces the most audience engagement, setting a foundation of communication and trust. Think with Google notes that six out of ten YouTube subscribers are more likely to base purchasing decisions on their favorite creator than their favorite TV personality.


Proven Partnership Performance. Influencers who demonstrate passion and authenticity in brand endorsements are likely to encourage their audience to engage in their campaigns. Forbes notes that VPX sports (manufacturer of Bang energy drinks) utilized ideal influencers on long-term contracts. Also known as "Elites," these influencers shared a combination of personal interest and quality engagements that applied to the Bang energy drink brand. As a result, they were able to increase their social media presence along with market shares over their competitors.
Examples of good influencer and brand partnerships

Here are a few examples of successful influencer-brand partnerships through different influencer marketing strategies.

Personal Storytelling Helps Convey Key Messaging
Jenn Haskins and CVS Beauty Sponsorship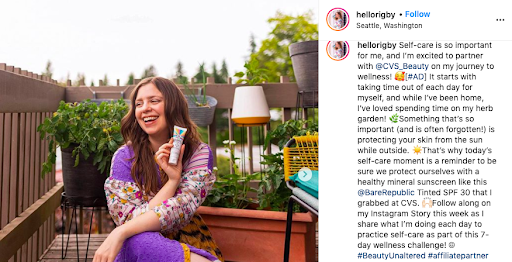 Jenn Haskins, a fashion and lifestyle blogger (@hellorigby on Instagram) published a post sponsoring CVS Beauty and Bare Republic mineral sunscreen. Haskins addresses the importance of self-care when spending time outside in the sun, and explains how she keeps her skin safe using Bare Republic Mineral Sunscreen from CVS Beauty. Haskins advocates practicing self-care through storytelling to incorporate her own experience with her influencer-brand partnership.


Contests Are a Great Way to Drive Engagement
Karl Conrad and Xiaomi Giveaway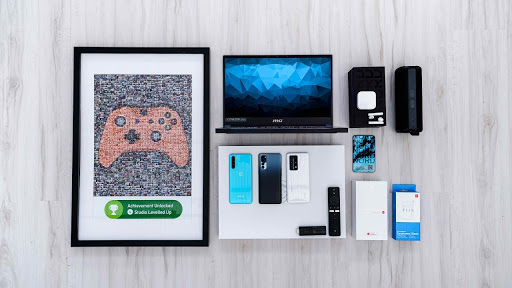 Karl Conrad, a travel and tech YouTuber released a tech unboxing and giveaway on YouTube sponsoring Xiaomi Electronics. To enter the giveaway, Conrad instructed viewers to subscribe to his channel, leave a comment, and follow him on other social platforms. Conrad's video received over five thousand comments, and his engagement skyrocketed with comments and new subscribers.

Conrad announced fifteen winners in his latest tech unboxing and giveaway video. Conrad's and Xiaomi's partnership provided a win-win opportunity that resulted in product exposure for Xiaomi's brand, as well as engagement for Conrad's channel.

Good influencers are easier to find when confirming that they value authenticity, prioritize engagement rates, personally believe in the brand, produce quality engagements, and have a passion for forging genuine connections. Equipped with this expertise, brands will have no trouble building a successful long-term influencer partnership.