Finding the best influencer for your campaign can be tough work. Synchronizing their content, personality, and audience with your brand takes a lot of research, especially if you're considering a long-term partnership with an influencer.
That's why we've rolled out content search and insights, a powerful combination users can leverage to sift through influencer data quickly on the Julius platform. While our 50+ search filters powered by the fully vetted profiles built by our in-house research team can help you find appropriate influencers, content search allows you to dig even deeper to find the most suitable.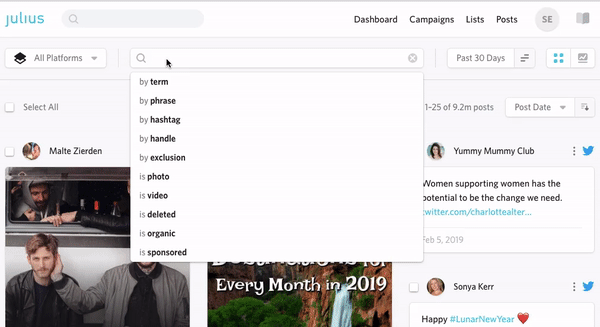 WATCH OUR PRODUCT WEBINAR HERE!
Whether you're looking for influencers who have mentioned your brand, expressed interest in your industry, or have used a specific hashtag, content search will help you find them. Any influencer you find can be added to a list or campaign, or you can add a custom tag to denote them. You can also add any post to a campaign, making it really convenient to collate your research on the Julius platform.
How Do Julius Content Search and Insights Work?
Content search allows our customers to search through the Julius database of over 250 million (and counting) influencer posts. Any post on any platform is searchable by phrase, keyword, hashtag, or @handle. The results can be sorted by posting date or engagement, so our customers can view the most engaging posts or spot developing trends.
Content search can be viewed in two ways: posts or insights:
Posts
Allows users to search for specific influencer posts, and thus influencers, by any of the criteria listed above. Posts will display any posts that match your search criteria, which can be sorted by platform, content type, or posted date.
Insights
Condenses the data from post results into trends, displayed as graphs and rankings. Insights shows a posting frequency graph, top hashtags, most mentioned accounts, and sponsored vs. organic post percentage.
How Do I Use Content Search and Insights?
Content searches can be global, individual, or list-based – users can search across the Julius database, within an individual influencer's profile, or within a preselected list of influencers.
Users can access global content search by clicking Posts in the top right menu of the Julius app.

Individual influencers can be searched by clicking the Posts tab on their profile.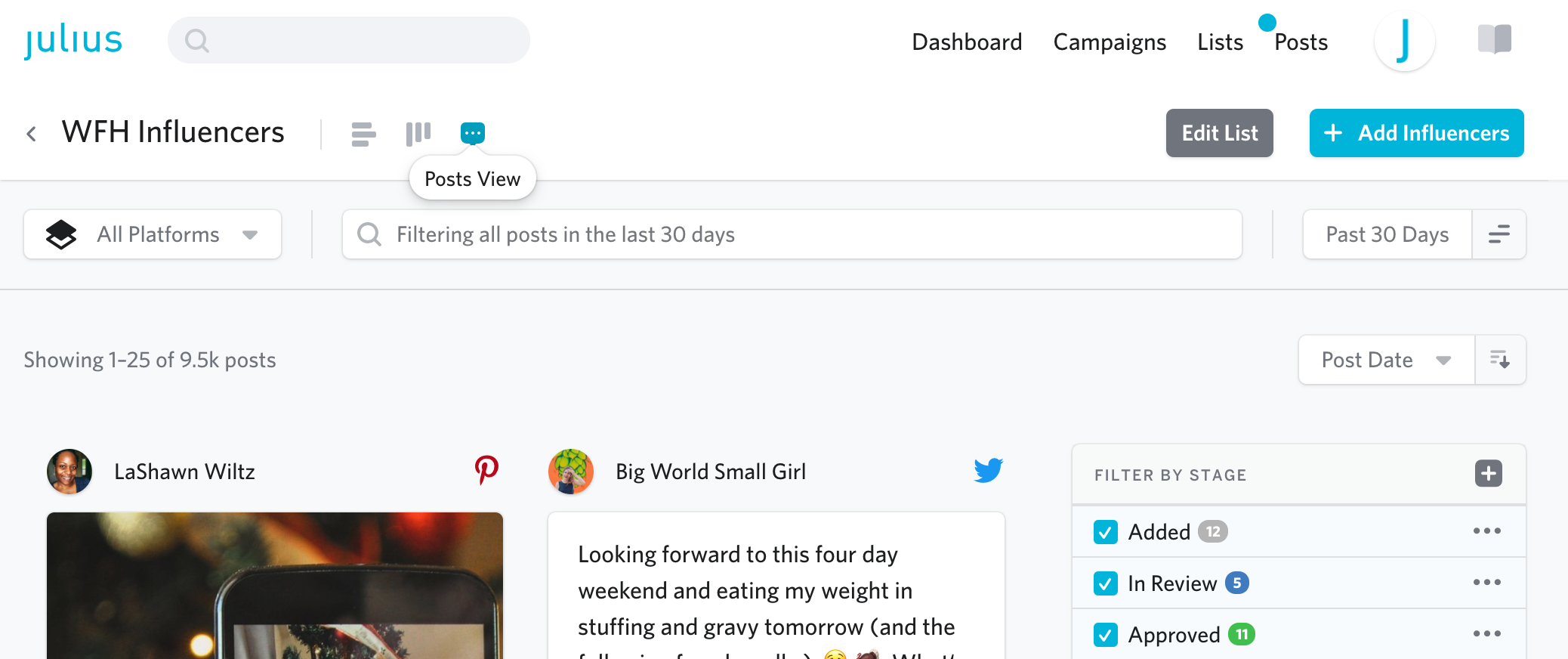 Lists can be viewed with content search by clicking the Posts View toggle, next to List View and Board View.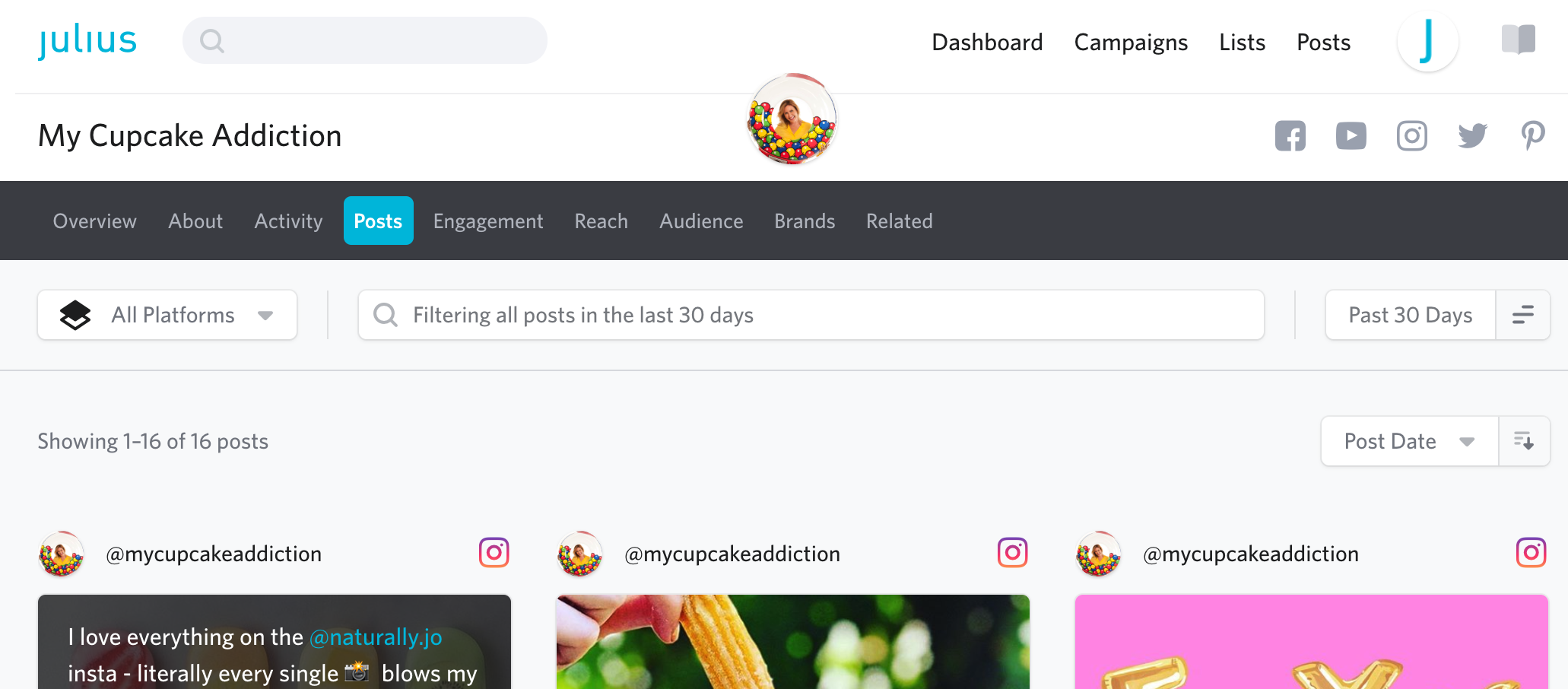 The Insights View can be accessed once you enter content search. The Insights View toggle located to the right of the date filter changes the format of the search, displaying the corresponding Posting Frequency graph, Top Hashtags list, Most Mentioned account handles list, and the Sponsored vs. Organic post percentage split.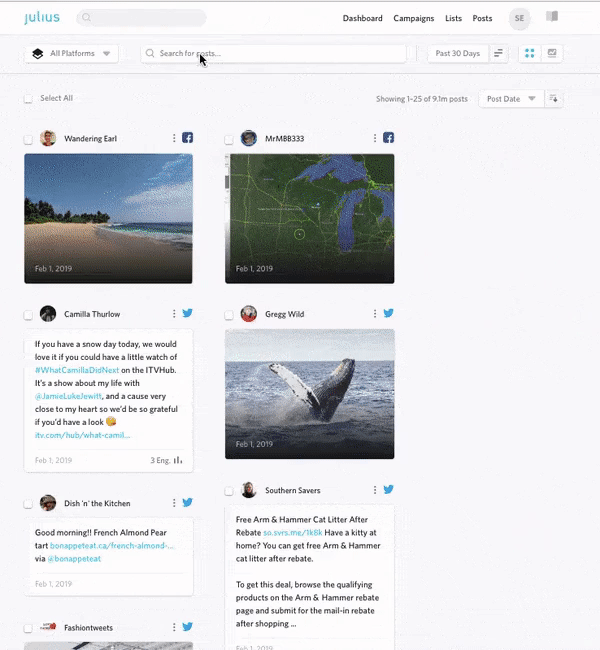 What Can I Do With Content Search and Insights?
Posts
Content search allows users to find influencers based on the broadest or most specific search criteria possible. It can roll influencer discovery, market research, and competitive analysis into a few simple searches. For example, if you want to find influencers who talk about cars, use the hashtag #carsofinstagram, but haven't tagged @Ford in any of their posts, it can be done in one simple search.
Searching by phrases or keywords can unveil influencers who already have an affinity for your brand, industry, or niche. Identify influencers for future partnerships based on their interests and content.
Searching by hashtags can show you what influencers are saying in a conversation, and when sorted by engagement can even show who's leading the discussion.
And searching by handles can show you all the posts that mention your brand, a competitor's brand, or even another influencer.
Putting these different functions together can help you identify trending conversations, the platforms they take place on, and the people who lead them. And, in conjunction with Julius'
messaging functions, campaign management tools, and our robust reporting suite, content search can be the first crucial step in launching a successful influencer marketing campaign.
Insights
Running a search in the Insights View can show broader trends about the conversations you found with posts. It can help you find the white space in the conversation, and help you gage the perfect time to launch a campaign.
Julius customers can search a trending hashtag to see how often it's posted and what platform it's most commonly used on. You can also view the posting frequency of your branded hashtag, influencers who tag it the most, or even hashtags used in conjunction with it and identify whether conversations are led by organic or sponsored posts. With insights, it is easy to evaluate the peaks and troughs of social conversations, and find the ideal time to insert your brand into the discussion.
Putting It All Together
Content search is a convenient way to find and evaluate influencer content on the Julius platform. Whether you're looking for influencers who use a certain type of language, lead a conversation relevant to your brand, or align with your brand's views, you can find them with content search.
Considering how vital timing is to executing social campaigns, finding white space in conversations is paramount to finding success. Using insights, you can comb through historical data in a snapshot view, and find the best times to head into a conversation before it's too crowded. Similarly, you can use the historical data to find benchmarks for campaign performance by checking their reach, engagement, and the impact they had on conversations.
If you have any questions, be sure to contact our customer success team for more information. For customers, check out our help desk article to learn more about how to leverage content search for your next campaign.