With 72.5% of marketers planning to increase their influencer marketing budgets over 2022 (Statista), here are the trends reshaping the industry that marketers' should embrace to stay ahead in 2022:
Real, raw and relatable
Influencers are getting more honest and showing their vulnerable, imperfect and emotional sides. From hair thinning and acne, to baby loss and mental health struggles, influencers are sharing more of their 'lows' and turning to deeper, more personal ways to connect with their audiences. Demonstrating the power of social platforms as strong community support groups. Brands and charities are discovering influencers opening up about their current or previous ailments, or health issues and finding ways of integrating themselves into their content in an authentic and symbiotic way.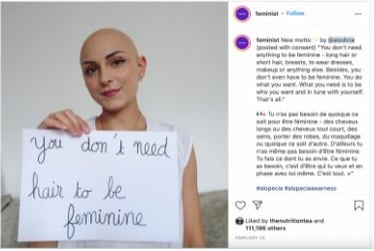 Into the metaverse
The metaverse is happening and it's happening right now. Big name brands and influencers are throwing their hats in the ring and we can already see successful virtual worlds being crafted; layered through avatars, visuals and music. Gucci's metaverse foray with Roblox in the Summer resulted in young fans buying digital handbags for prices that exceeded real ones. Other brands need to start thinking about digital as well as physical experiences if they want to let new audiences in and stay ahead. We'll see brands capitalizing on, and collaborating with, influencers beyond their social media feeds, to help them bridge the gap between the physical world and the metaverse.
Creator-led NFT collections
The recent growth of the metaverse has brought legitimacy to the concept of non-fungible tokens, also known simply as NFTs. Initially, digital art dominated the scene, but now creators of all kinds are getting stuck in building ownership of their content, and deeper relationships with their audiences through rewards. TikTok recently launched their NFT project, "Own the Moment," that lets fans own culturally-significant moments from top creators. Next year will see more social platforms building infrastructures that allow creators to sell NFTs because they understand the importance of this to their long-term monetization plans.
Creators being heard
We've been giving our eyes a break from screens and getting hooked on podcasts. Now audio hubs like Spotify, Twitter Spaces and Facebook Soundbites have us tuning in to hear creator's impersonations, food reviews, daily affirmations, empowering stories, and more. The possibilities of social audio are endless and we're hear for it.
Marketing with a purpose
In today's Covid world, consumers (and not just Gen Z) are putting more expectation than ever on brands and influencers to use their platforms and positions for social good. Next year will see even more influencer marketing that speaks to or elevates a higher cause, be it environmental concerns, social justice issues, or diversity and inclusivity. Brands need to be prepared to factor their purpose into their influencer strategies in a genuine, non-tokenistic way. Identifying influencers that have proven their alignment with a purpose will be key to success and building a quality story.
Performance-based deals
With influencer budgets on the rise, marketers are under increased scrutiny to prove ROI and drive bottom line results. Social engagement alone isn't enough, so 2022 will see further expansion in affiliate programs with brands shifting the onus of commercial results onto their influencers through commission-based payment models. Influencer platforms like Julius that can obtain full-funnel performance insights through link tracking and Shopify integrations will win.
TikTok to compete with streaming platforms
Consumers are migrating from TikTok to view longer-form content on streaming platforms like YouTube and Twitch, especially in the gaming and eSports worlds. The game viewing audience, as Thece CEO Zack Rozga calls it, is the fastest growing media audience in the world and is largely untouched outside of team and tournament sponsorship.
TikTok's CEO has stated that one of his goals is to expand the presence of gaming on the platform, and live streaming capabilities in order to keep captive audiences on the platform for longer. TikTok's LIVE is already available in some markets and gaming is one of the top categories to date. Did you know that #Gaming has over 183 billion views on TikTok?
Katie Bohm

joined leading influencer data and analytics company Julius with HYPR in May 2018 to lead their European business from London. Katie's an experienced influencer and social media marketing professional with a varied array of skills and qualities—incisive strategic thinking, intellectual rigor, and strong attention to detail. From international influencer strategy, to implementation and management of consumer engagement programs, Katie is hardworking, motivated, and tremendously passionate.