Influencer Marketing is not easy. From strategy development, to production, to reporting, it's a dynamic and nuanced channel that requires patience; but over time, best practices form, processes begin to streamline workflows, and marketers circle around stats and insights that help the industry move forward. In this series, we aim to share quick, easy-to-digest pieces of content that will help you find success with influencer marketing, quickly. Have advice to share? Email marketing@juliusworks.com and we'd love to hear what you have to say.

Great influencer marketing is all about heightening experiences for both the influencer and the consumer by providing a high-quality value exchange that is entertaining, relatable, or utilitarian. However, despite best efforts, the effectiveness of influencer marketing is determined solely by the consumer and their choice to engage with branded content. In order to be successful, the strategic marketer must determine what stories to tell with influencer partners that are relevant enough to compel their target audiences to engage. Working with an influencer without a complete understanding of their audience will ultimately result in content that falls flat.

Consider this: an influencer wants to take on branded partnerships which they believe will result in highly engaged content, boosting their engagement rate and appeal to brands, and ultimately generating further partnership opportunities. Influencers need brands to focus on their audience–not just what is best for the brand–in order for them both to succeed in the long run.

Developing a win-win partnership for both the brand and the influencer is all about prioritizing an audience's interests and leaning into their behaviors. Collecting and leveraging data to identify what makes consumers tick will help marketers identify patterns, develop insights, and ensure that influencer partners are achieving success with the desired consumer base. To ensure that the partnership and storytelling resonates with consumers, marketers should plan to obtain a full-scale look at what drives the target consumer to make a decision. While there are many ways to gather this data, Julius can help from an influencer-audience perspective.

How Julius Can Help Marketers Learn More About Their Audience

An easy way to identify influencers that effectively reach a target audience is to sort and filter by Engagement Rate, and leverage the Audience Data search. From there, use these tools (available on an influencer's Julius profile) to collect data, learn more about an audience, and develop a strategic approach. To gather enough input, identify at least ten potential influencers, and then look at each of their profiles as a cohort to identify patterns and develop insights.
Audience Data: Brand and Interest Indexing
While Julius' audience data cuts a few different ways, the Brands and Interests segments weigh the heaviest in terms of strategy development value. With this view, users can not only determine an influencer's audience's interests and brands they're likely to engage with, but they can also plainly see how an influencer's audience compares to all other users on social media. Using this insight and seeing what type of content the influencer shares can help the marketer create strategic approaches that will reach audiences with similar interests.

For example, the data below shows an influencer who over-indexes in photography. If a marketer wants to develop a campaign that will target consumers interested in photography, this influencer's audience might be a great place to start.



Audience Data: Expanded Indexing
Julius knows that indexing, as you can see above, is a helpful way to optimize influencer selections and get a valuable grasp on what the landscape looks like. That's why Julius also features Expanded Indexing to give users a full picture of what consumers care about and how the influencer's audience relates–the example below shows the extended list of hobbies their audience is interested in. While it wouldn't make much sense to base a strategy for a jewelry making campaign off of this data alone, it does help contextualize what's going on across the vertical as it relates to what the influencer shares and how their audience prioritizes it.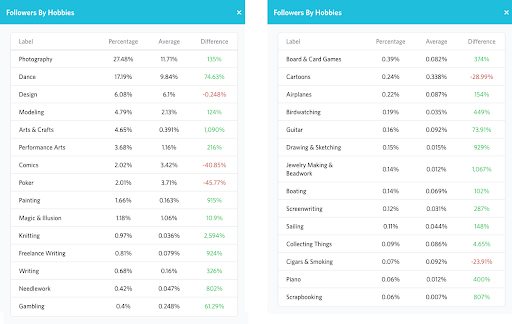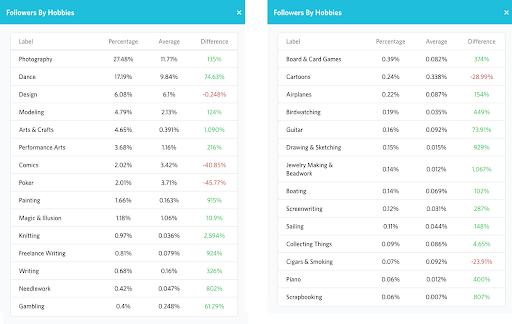 List Data
As Julius users continue to identify potential influencer partners, adding them to a List is a smart way to stay organized, and keep influencers on hand for easy re-identification in the future. However, there is a deeper value to using Lists beyond this–Julius users can use List Data to view aggregated audience analytics. When adding influencers to the List, keeping tabs on how Audience Demographics, Interests, and Engagement Rate change can show how the influencer impacts the makeup of the group. Depending on the similarities (and differences) among influencers, the data in the graphs will change–tracking this is a great way to see what the audience cares about, and will enable you to strategize that around the influencer's Topics, Causes, or Interests.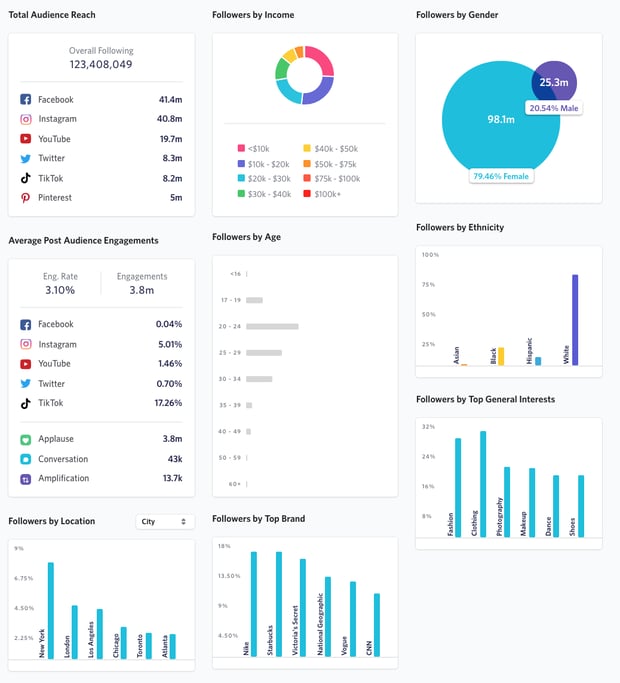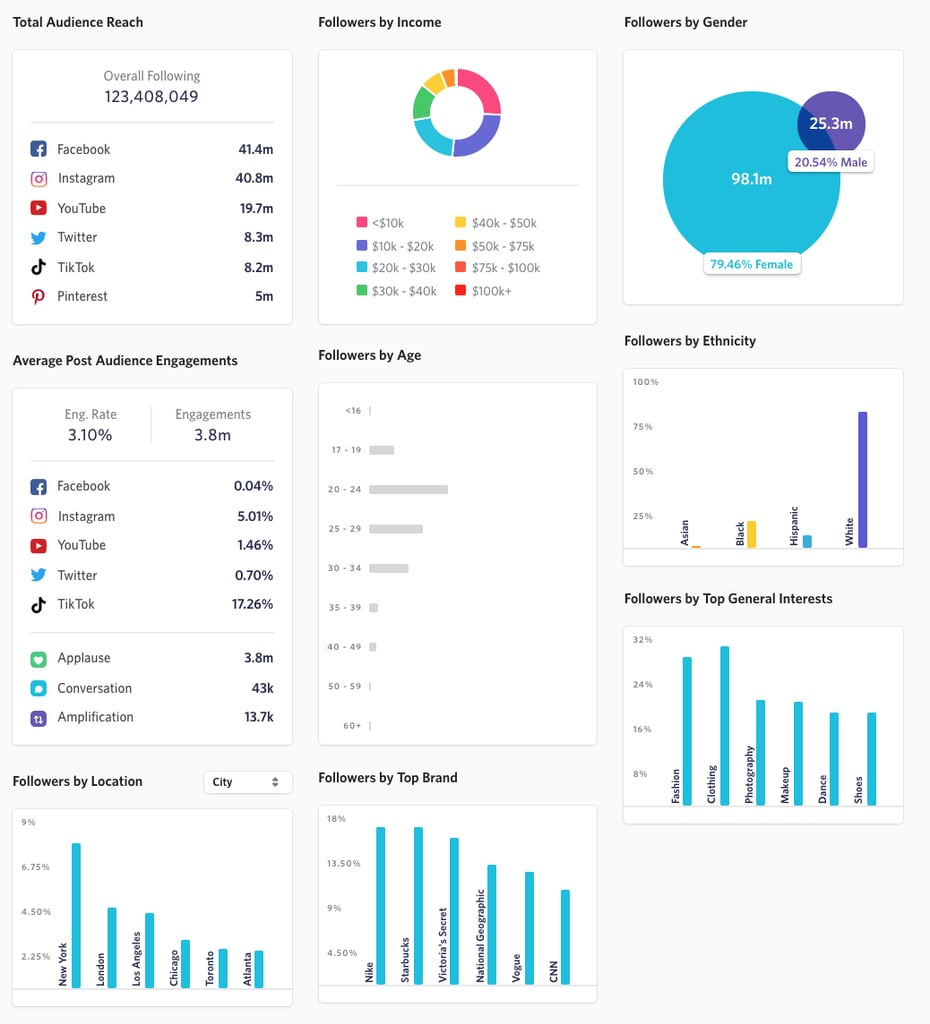 Lists: Content Search & Insights View
Julius enables its customers to search and filter through over 450MM posts from influencers–we call this feature Content Search, and users can leverage Boolean (a way to generate search queries) to help cut through the clutter and find exactly what they're looking for. A segment of Content Search is called "Insights View," which lets marketers view an influencer's post frequency across different channels. This quickly enables marketers to prioritize platforms where influencers are engaging their audiences the most, and in the same turn, identify white-space where there might be an opportunity to own the discussion. This feature, coupled with top hashtags and @mentions, can quickly lend itself to understanding not just where consumer conversations are taking place, but also discovering the adjacent conversions that might help marketers understand the context of these decisions–further enabling audience discovery. Finally, the "Sponsored vs Organic Posts" breakdown will also help marketers understand if the audience is being saturated with branded content already. This is also a great way to also look at competitor sets and discover what branded content is working when paired with the "Posts View" of the Content Search.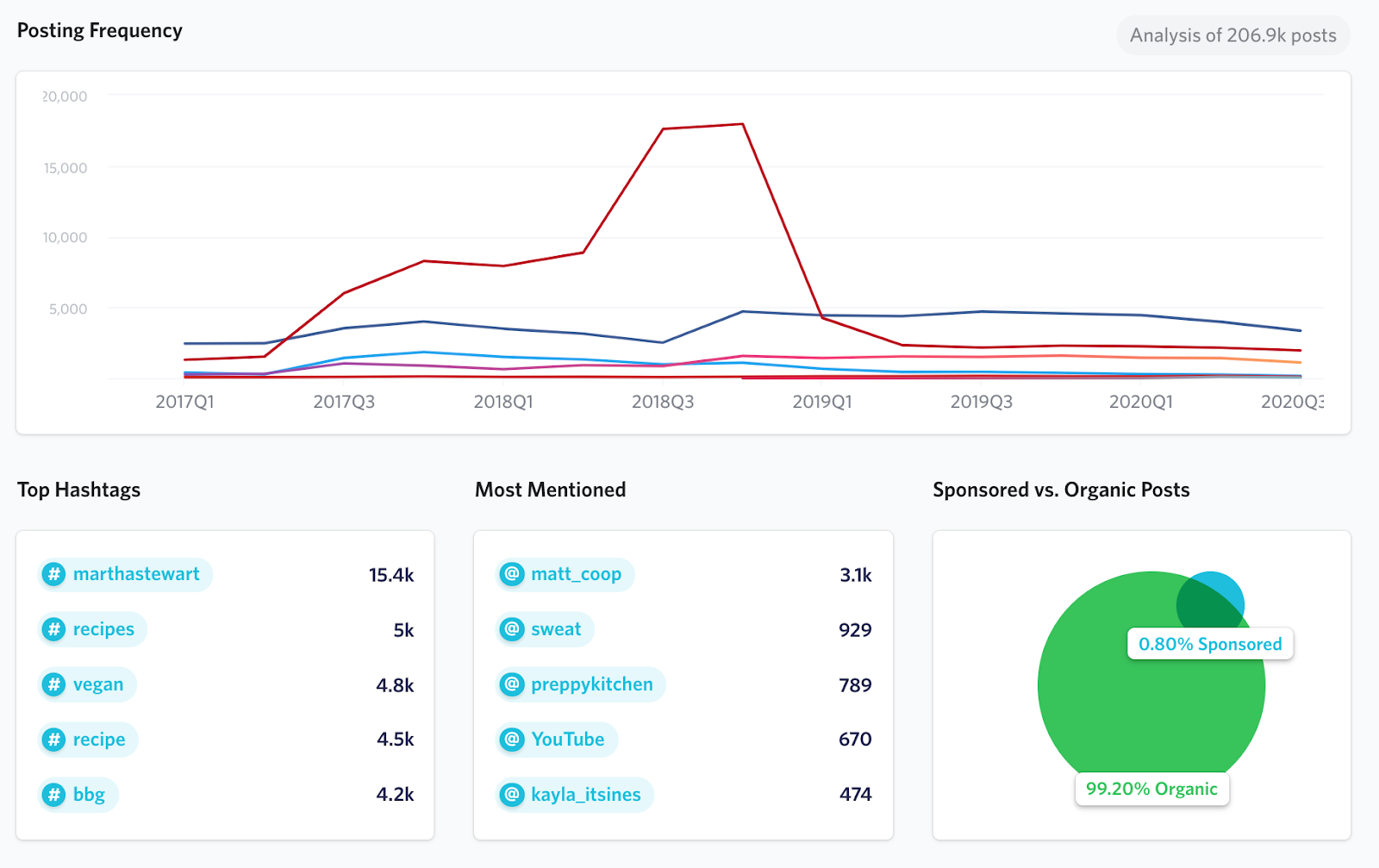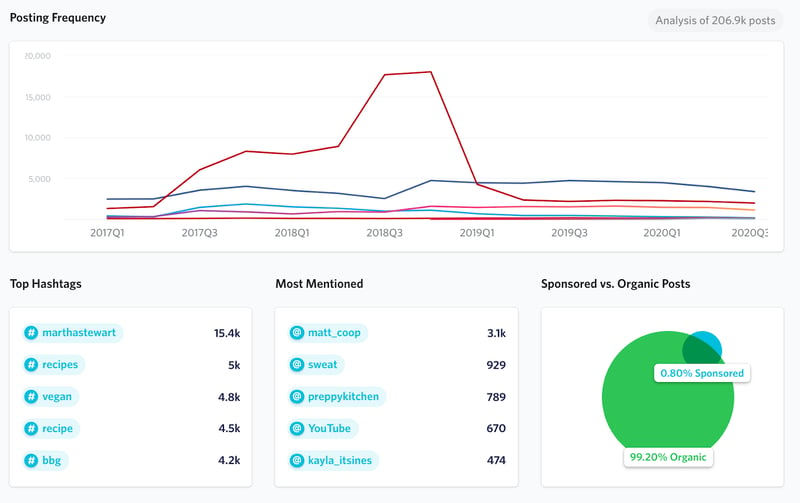 Campaign Reporting: Top Performing Influencers & Posts
The best way for marketers to understand their audience is to execute a campaign and see what bubbles to the top–and what sinks to the bottom.

Let's assume that a campaign features approximately 10 influencers, all sharing similar content and stories. By seeing what content, and influencers, perform best, and then diving into the Audience Data of that influencer, marketers can learn the minute details that separate them from the pack and understand why this content performed best. Is it because that influencer has an audience primarily in NYC? Is it because that influencer has an audience interested in surfing? By pairing performance data with influencer audience data, marketers can start to correlate story arcs, timeliness, and performance data together in a way that can help inspire campaign strategies in the future.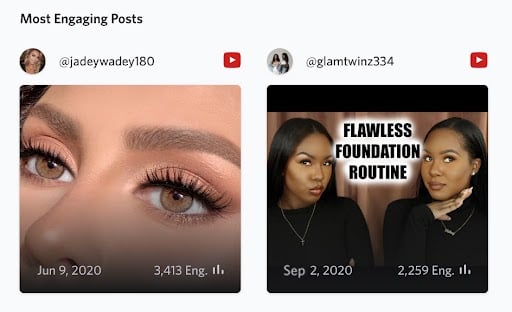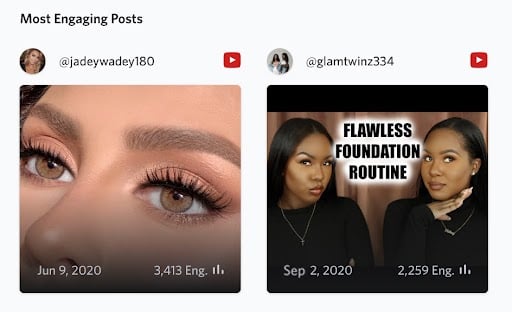 Understanding influencers, and their audiences, is a never-ending and constantly evolving task that marketers must endure in order to keep up with the pace of social media. Mining for insights is a must, and Julius is proud to help some of the biggest brands in the world accomplish amazing influencer work through storytelling. Take a look at this article to learn about how Julius can help brands uncover insights that can help inform content strategies for more authentic storytelling.

| | |
| --- | --- |
| Danny Palestine, Head of Product Marketing at Julius, is an industry veteran with over 11+ years working with some of the biggest brands in the world. With most of his experience at PR and advertising agencies in NYC, Danny joined the Julius team in 2017 and now leads content, social & product marketing strategy, and lends his expertise to support key stakeholders. When not at work, Danny is a proud new father, Star Wars & F1 fan, and avid cyclist. | |